Working with SEED Law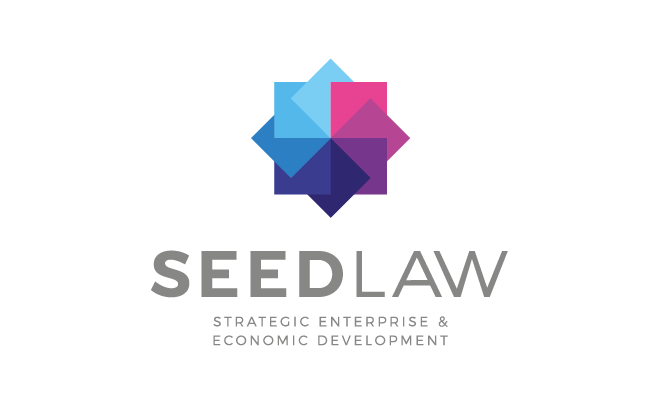 The mission of SEED Law is to partner with entrepreneurs and business owners to provide legal solutions that encourage sustainable business practices. On the SEED Law Column on Medium, we share timely, practical information and resources for entrepreneurs.

Hiring a business attorney is an important step in formalizing your business. As an owner and leader in business, a part of your responsibility is to make sure the business is not only innovative, but resilient and sustainable. Every business decision has a legal ramification, whether realized immediately or not, and engaging a business attorney provides counsel, compliance and peace of mind.
Before meeting with an attorney, do your research! Consider your legal needs, your long-term business plan, the steps you've already taken, and the questions you have for a lawyer. While no online resource could take the place of hiring an attorney that knows the law and knows your goals, there are resources online that can help you consider the framework of the legal work you may need. If you can, book a consultation to learn more about the law firm, practice areas, and client relationships. This initial research will help you to use your consultation time wisely and help you decide if you want to engage a particular firm.
At SEED Law, we have over six years of experience representing businesses from start up to succession. Our main practice areas include:
· Business Expansion
· Civil Litigation
· Construction Law
· Contract Law
· Entertainment Law
· Estate Planning
· For Profit Formation
· Intellectual Property
· Investor Relations
· Labor & Employment Law
· Medical Marijuana
· Mergers & Acquisitions
· Nonprofit Formation
· Nonprofit Law & Governance
· Property & Real Estate Law
· Real Estate Law
· Succession Planning
· Tax Law
· Wind Down & Exit Planning
We offer a wide variety of online and in-person educational resources and you can schedule a consultation with an attorney online today.
Know that in developing your pro team, you'll need to set aside resources. This does include actual money, but it also includes your time. Engaging an attorney means you have to compile documentation and present the information they need in order to best represent you. Whether it's a new business formation, a business partnership, a new hire, lawsuit or a succession plan, there will be a transfer of documents. Save time (and money) by getting organized in advanced.
To work with SEED Law, we start with an intake form and consultation to learn more about your business. If we're able to help, we send an engagement letter that outlines the scope of services, a link to our secure online client portal, and then your matter is assigned to a SEED Law attorney and entered into our workflow. For our retainers, we work to outline a legal plan in the consultation that helps all parties understand the needs and next steps before we talk about money. We start with an hourly package or a general counsel services plan depending on those needs. We excel in working as outside general counsel and also on a project-by-project basis as appropriate.
To schedule a consultation with a SEED Law attorney, you can give us at call at (816) 945–4249 or schedule your consultation today here.
Complete and Continue